1.Download the WatchVPN App from the Play store:

2. Login to the WatchVPN App using your My Account login username & password to sync your subscription/s.
3. Connect to the UK connection for all the UK players or the US connection for US players.  Once Connected you can then either load up the UK or US player App directly or use your Web browser to access the channels here: https://www.watchuktvabroad.net/channels/
Please Note: You can also find links to the UK apps on the channels page link above.  If you have problems doing this because you don't have a UK Play store account contact support >
Problems connecting using our App? – Try an alternative method below:
Set-up an OpenVPN connection
1. Download the app called OpenVPN for Android here >.
2.To import the necessary config file tap the button below and follow the onscreen instructions.
Please login to generate your download links
LOG IN
3.Open up the email you just sent yourself called OpenVPN setup (if you can't see it also check your junk/spam folder just in case). Locate the attached config file and download it. You should then be promoted to convert the config file by the OpenVPN for Android app. Tap on the tick to the top right to do this. Then load up the OpenVPN for Android app again, tap on the WatchUKTVAbraod connection and then tap OK when asked Allow the connection..
4. In the OpenVPN Connect app that will then load up tap on the green + icon next to the WatchUKTVAbroad configuration file to add it to your list of connections.
5. After doing this you should then be connected and you will see a small Key icon appear to the top left of your device. Once connected you can then load up the tv player of your choice either by going via your browser or if you already have the tv apps installed load up the app instead.
When your finished watching you can disconnect by swiping down from the top of your screen to view notifications (you should see the Disconnect option there). To reconnect load up the OpenVPN for Android app and again tap on the WatchUKTVAbroad conneciton.
Setup an L2TP connection
1. On your Android device tap the Settings icon within Applications, then under Wireless and Networks depending on your device either tap More settings or More….. On the next screen tap VPN and on then again depending on your device either tap Add VPN network or tap the + icon to the top right of the screen.

2. Fill out the details exactly as follows:
Name: WatchUKTVAbroad L2TP
Type: L2TP/IPSec PSK
Server address: vpn.watchuktvabroad.net
IPSec preshared key: calp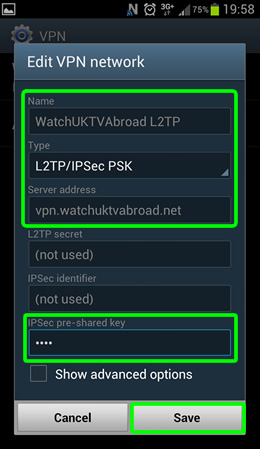 3. When the details are filled out correctly as above tap Save. Please note: At this point your device may ask you to set or enter a credential storage password. This is just so the settings can be stored securely. This password is unique to you and your device and has nothing to with your WatchUKTVAbroad username or password.
4. You will now see the saved connection for WatchUKTVAbroad L2TP. Tap the WatchUKTVAbroad L2TP connection. In the next screen enter your VPN Username and VPN Password (PLEASE NOTE: These details are not the same as your My Account login details.  Your VPN Username and VPN password can be found in your welcome email or the Subscriptions page within your My Account area). Make sure you tick the Save account information option and then tap Connect.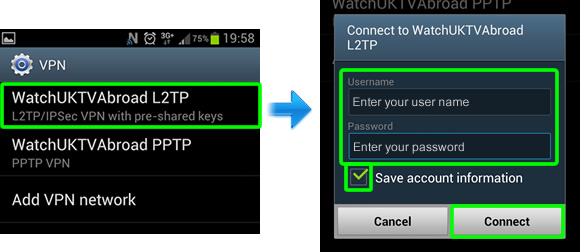 Now check if you are connected by looking for the small key icon to the top left of your device's screen as below. If you see it there you are connected.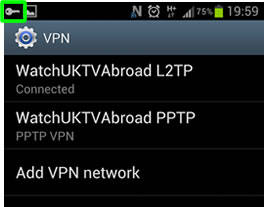 5. Just remember every time you want to watch UK TV you must connect to the VPN first (as you are now). In future to do this go to Settings > Wireless & Network > More Settings > VPN. Tap WatchUKTVAbroad L2TP, and then tap Connect. When you are finished watching UK TV depending on your device either drag down the notifications menu down from the top of your screen and click on the VPN is activated message or go to Settings > More.. > VPN. Tap WatchUKTVAbroad L2TP and then tap Disconnect so your internet connection goes back to normal.
6. Now you know how to Connect and Disconnect as and when you need it all you need to do now is make sure you are connected and then either open up the UK TV player of your choice in your web browser or if you already have the TV apps simply load up the TV app of your choice and start watching. Enjoy!